Take the Pledge South Carolina
Take the Pledge South Carolina
As mobile devices become increasingly available, so do crashes as a result of distracted driving. How will you help reverse the trend?
---
Mobile devices, especially smart phones, are more popular than ever. With these items, however, comes the temptation to use them while behind the wheel. Reading and sending text messages while driving is enough to impair your safety as much as driving at twice the legal alcohol consumption level. The consequences can be serious, even deadly.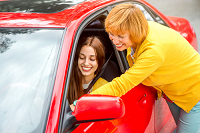 Distracted driving is especially dangerous to our teen drivers in Greenville and Spartanburg. Developing safe driving habits early on is integral to staying secure while out on the road; however, the temptation to send a text message can be significantly greater for young drivers. Making sure your teenager understands this is one of the most important things you can do as a parent.
---
Most importantly, texting and driving, including sending email and instant messages, is prohibited by law in South Carolina. You can read more in Title 56, Chapter 5 on Uniform Act Regulating Traffic on Highways below:
South Carolina Texting and Driving Laws
---
Kendall & Associates Insurance Agency, Inc. invites our car insurance customers in Greenville, Spartanburg, and throughout South Carolina to join us in making a promise to never use a cellular device while behind the wheel. Below is a contract to Take the Pledge (courtesy of the National Highway Traffic Administration) available to download. We encourage every driver whom we insure to do their part to keep South Carolina roads safer for everyone.
---
---
Safe driving habits are a great way to not only keep South Carolina roads safe, but will also reinforce your car insurance with Kendall & Associates Insurance Agency, Inc. If you're still searching for an agency who will provide the reliable auto insurance you need to stay safe on the road, give us a call at 864-271-9125 or request a quote online to begin the process.
Additional Auto Resources:

Kendall & Associates Insurance Agency, Inc. constantly strives to keep our neighbors in Spartanburg, Anderson, Greenwood, Easley, Simpsonville, and throughout South Carolina as safe as possible while out on the road.